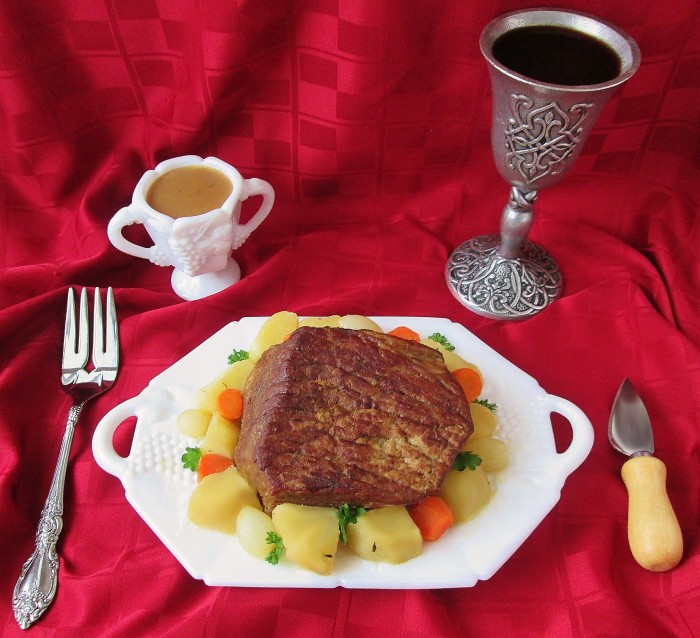 In the King Arthur legends, there are countless accounts of feasts and merriment, but descriptions of the specific dishes they ate are rare. We know from medieval history that these feasts probably involved a lot of savory pies, boiled vegetables, fruit, and roasted meat. I'll admit I fantasized about roasting a whole pig for this recipe just like they would have done in the olden days, but whole animals are a little difficult to source these days (and I'm not exactly sure how I'd cook one if I found it). Still, large beef roasts were equally common, so I decided to use my go-to pot roast recipe to make a dish very similar to the sort of entrée you'd expect to see at a medieval feast, yet prepared in a way that fits a modern kitchen. Inspired by the Questing Beast which Sir Pellinore so valiantly pursued, this delicious roasted beast is fit for any king's table.
Roasted Questing Beast

"'Ah, we call it the Beast Glatisant, you know,' replied the monarch, assuming a learned air and beginning to speak quite volubly. 'Now the Beast Glatisant or…the Questing Beast—you may call it either,' he added graciously—'this Beast has the head of a serpent, ah, and the body of a [leopard], the haunches of a lion, and he is footed like a [stag]. Wherever this beast goes he makes a noise in his belly as it had been the noise of thirty couple of hounds questing.'"
— The Once and Future King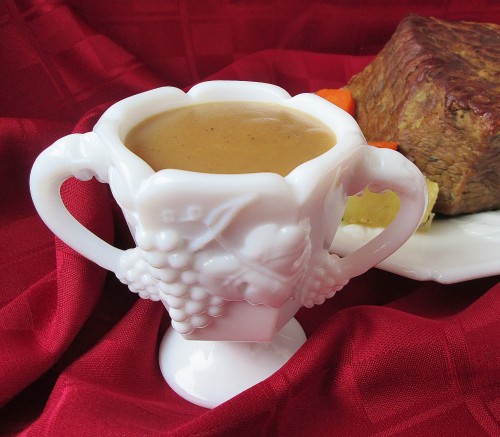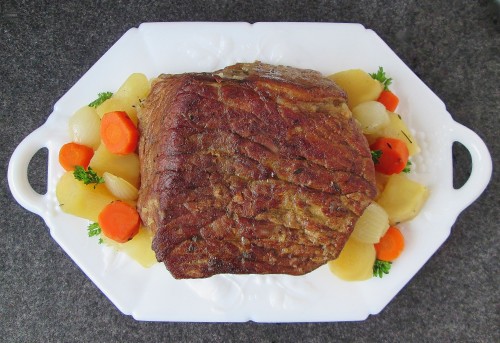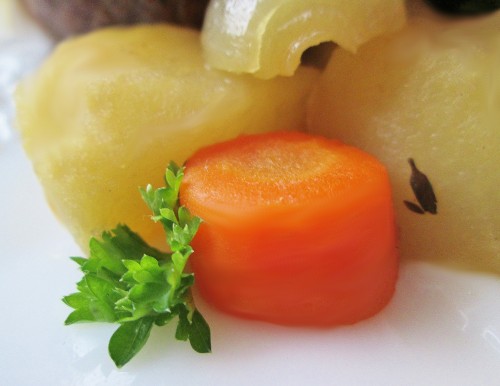 INGREDIENTS:
2 lb bottom round or rump roast (I used bottom round)
2 tbsp canola oil
1 tsp salt
1/4 tsp pepper
1/4 tsp thyme
1 bay leaf
1 1/2 cups water, divided
2 medium potatoes
2 large carrots
8 oz pearl onions (or 1 large white onion that weighs 8 oz)
1/4 cup all purpose flour
1/4 tsp browning sauce, optional (measure this one out carefully—a little goes a long way!)
salt and pepper, to taste
fresh parsley, optional

Makes approx. 4 servings

INSTRUCTIONS:
Pour the oil into a dutch oven set over medium heat and brown all sides of the meat. Once the meat is evenly browned, sprinkle the salt, pepper, and thyme evenly over it. Add the bay leaf and 1 cup water, bringing it to a boil. Reduce the heat, then cover the dutch oven and let it simmer for 1 hour and 15 minutes.

I like to flip the roast every 10 minutes or so for more even cooking.

While you wait, peel and coarsely chop your potatoes, carrots, and onions. When the meat is ready, add the vegetables to the dutch oven. Cover once more and let it all simmer for 30-45 minutes or until the meat is tender and the vegetables are cooked through.


Transfer the meat and vegetables to a serving dish and cover it with tinfoil to keep it warm.

Time for the gravy! Skim the fat from the remaining juices in the dutch oven (there's an easy how-to video on how to do it here). Add enough water to the juices to make 1 cup. Pour the flour into a separate bowl and gradually stir in the remaining water with a fork until smooth and completely combined. Whisk the flour mix into the juices. Turn the heat to medium-high and bring it to a sluggish boil, whisking continuously. Continue to cook and stir for two minutes or until thick and slowly bubbling. Stir in your browning sauce and add salt and pepper to taste.

To ensure smooth gravy, whisk fast and pay special attention to the center of the pot, since that's where much of the heat is concentrated.

If desired, garnish your roast with bits of fresh parsley for color. Serve it alongside the gravy to your bravest knights as a reward for completing a dangerous quest. 🙂

If you have any leftovers, I HIGHLY recommend using them to make our Panther's Pasties from Alice in Wonderland. They're basically pot roast in puff pastry, and they're my all-time favorite way to re-purpose leftovers.