As you know, a few weeks ago I attended a tour event for the new Lockwood & Co. book, The Hollow Boy…and I got to interview the author, Jonathan Stroud! Since I wanted to cover two general topics in my interview, I decided to divide my interview into two parts and publish them separately. The first was a mini interview about the book tour, which I published a few weeks ago with an overview of the tour event. The second part was a more in-depth interview about the Lockwood series itself. I just finished reading The Hollow Boy, so today I'm posting the longer interview with my review of the book. Enjoy!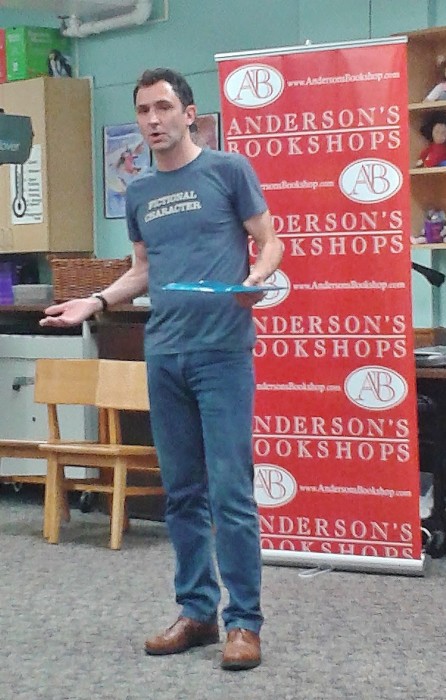 Jonathan Stroud Interview Part II: The Lockwood Series

Before the tour event began, I got a chance to sit down with Mr. Stroud and ask him some questions about
The Hollow Boy and the Lockwood series as a whole. Here's what he had to say!
What gave you the idea to start writing the Lockwood series?

I've always loved ghost stories, so I was keen to try my hand at them. I wanted to find a way to blend good ghost sequences with a wider society.
What sets The Hollow Boy apart from the first two Lockwood books?

It explores many of the relationships in more detail, especially the relationship between Lockwood and Lucy. It also introduces a new character, Holly Munro, who makes things very interesting. I'm very keen on it.
The first two books raise a lot of questions about the nature of ghosts and why they've become a problem. Can readers expect to have these questions answered over the course of the series?

Yes, that would be my aim. It was always my goal to set Lockwood in a wider world, with a history. George in particular is very interested in learning how the ghosts work, but Lucy is more aware of their humanity and wants to know their motivations.
What's something you learned while writing Bartimaeus that has helped you write the Lockwood series?

With Bartimaeus, I learned you can't invent the world in one go. You have to discover it, like a child gradually discovers the world. A bit at a time.
Ghosts and hauntings are the main theme of Lockwood & Co. However, writing a spooky series for a young audience can be tricky. How do you find a balance between too scary and not scary enough?

Atmosphere and buildup are the key. Great scary stories are built on suspense. You want to chill the reader but not deeply disturb them. You can insinuate horrid things, but leave them up to the imagination of the reader.
Personally, I think one of the most enjoyable aspects of the series is the level of detail invested in the ghosts, even minor ones. It's a strong reminder that each ghost has a story, even if the reader never finds out what it is. Do you have backstories for your minor ghosts?

For some, [I know their stories]. I'll hint at why certain ghosts are there. Their stories are an important part of remembering they're human. Lucy's power is very important to this. She's very empathetic to the ghosts. She understands they're still human, even though they're dead.
Do you have any plans for the series you wouldn't mind sharing?

I'm thinking about Book 4 at the moment. [The Hollow Boy] is quite intimate, focusing on relationships and characters. Book 4 will reveal more hidden agendas.
What are the easiest and hardest parts of writing for you?

The easiest, most fun part is riffing ideas—quite early, when you're just playing. That's great. There's so much potential! The hardest part comes in the middle of writing the book, when you're trying to get serious and impose your will on the pieces you already have, trying to get them to work together.
Growing up, who was your favorite author?

It changed as I got older. When I was 5, it was Richard Scary. When I was 8, it was C.S. Lewis, and Tolkien when I was 10. Now it's Robert Louis Stevenson. I love Treasure Island! (Maybe we should point Mr. Stroud towards our Treasure Island menu. 😉 )
Seeing as I'm a food blogger as well as a book blogger, I HAVE to ask…what's your favorite food?

When I was younger, I would have said fish and chips. There's nothing nicer than fresh fish and chips by the seaside. But now, I do like a good curry! (However, Mr.Stroud asked me to add this footnote: As much as I love curry, the food that gives me the most happiness is my wife's homemade bread. It's one of those foods that doesn't just taste good: it makes life better!)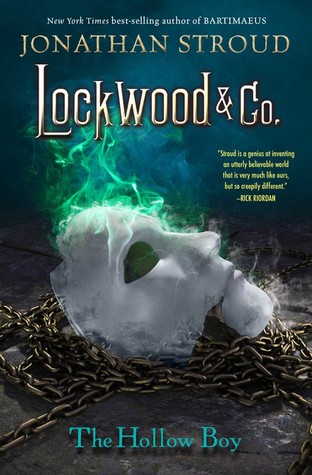 My Review of Lockwood & Co. #3: The Hollow Boy
I won't be splitting this review into praise and criticism sections like I did with my previous Lockwood reviews, mostly because I don't have much criticism to make. The Hollow Boy is definitely my favorite Lockwood book so far. The pacing was perfect; it pulled me in and held my attention right until the very end. I loved watching Lockwood, Lucy, and George's team dynamic develop. I also appreciated how even though Lucy admires Lockwood as much as ever, she's honest with herself about his flaws, seeing him as a whole person. And instead of damaging their friendship, this makes it more complete. As for the new team member, Holly Munro, I found myself loving to hate her perfection just like Lucy does. However, since I was seeing it from an adult's perspective, I was also amused by how obviously Lucy's jealousy colors her perception of any situation involving Holly.
When it comes to criticism, only one thing comes to mind, and it's pretty minor. We're told by Lucy that Lockwood & Co. work so well together, and we see evidence of that…but we also see evidence of some pretty spectacular screw ups. We're meant to think that they're a talented yet under-appreciated agency. I think it would have been a little easier to internalize this if we had a better basis for comparison. For example, if we heard about another team of agents failing the Lavender Lodge case, we'd be really impressed with Lockwood & Co. for succeeding at it (even with the debacle in the attic). As it is, I think it's easier to take their successes for granted if we don't see them succeed where others have failed. We get to see some of that later on, but I think it would have been nice to see first thing.

My only sadness is that I'll have to wait so long for Book 4!
What spooky books are you reading for Halloween?