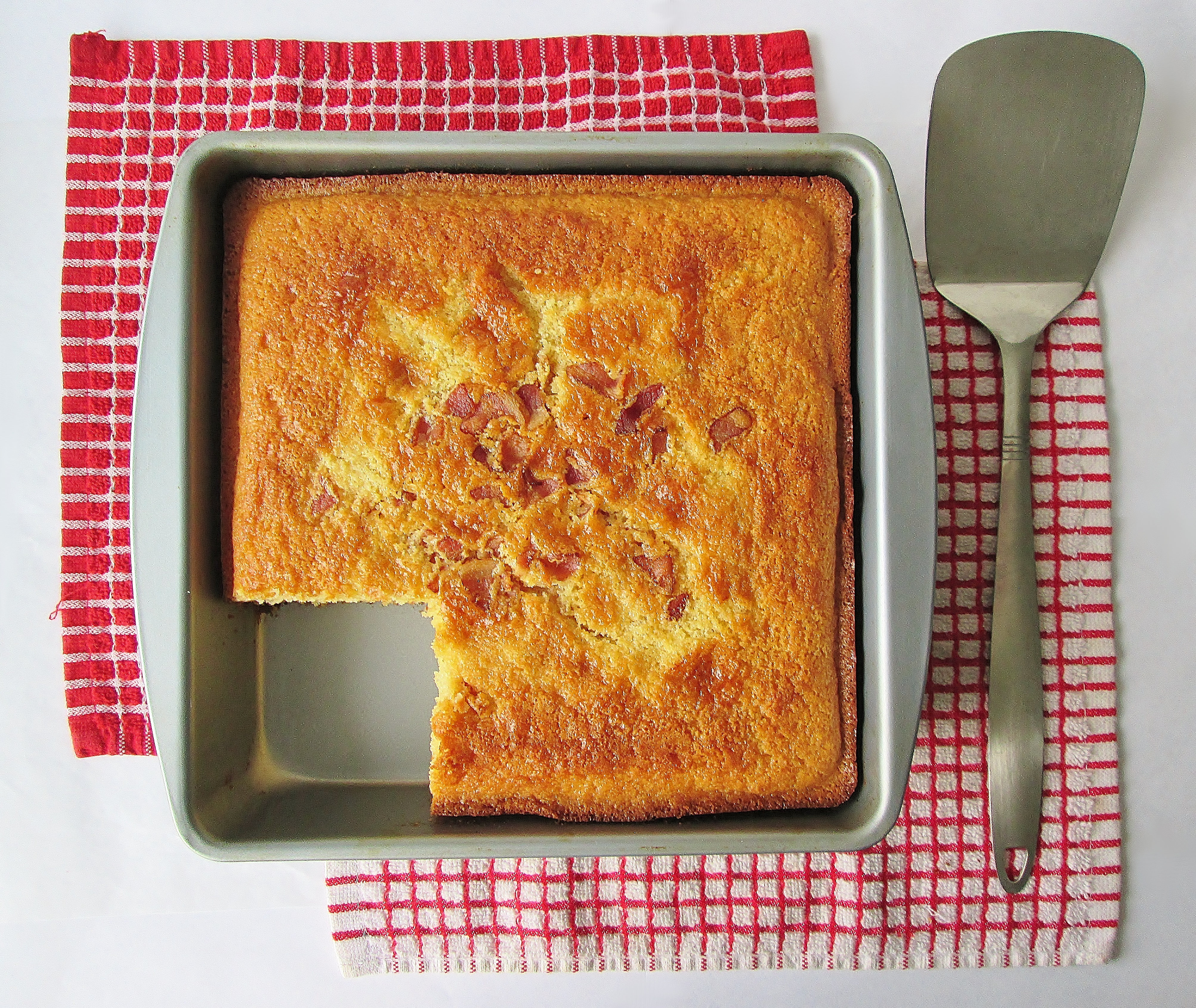 Here in the Midwest, cornbread is a very serious business, and anyone who comes from a cornbread eating culture will tell you that regional recipe differences are important (i.e. in the south, cornbread is make with white cornmeal and no sugar). So when I set out to find a Missourian cornbread recipe for our Tom Sawyer menu, it had to be authentic. I rounded up a bunch of potential candidates and ran them past my native Missouri friends, who selected this honey cornbread recipe from a restaurant in Branson.

I whipped it up one evening for dinner, and the result was magical: a lightly sweet, glossy crust that reminds me of Famous Dave's corn muffins and a soft, fluffy center. Mmmm! You can bet the Mister was excited! Especially since I improvised a little and added bacon to the mix. Why you ask? And to that I answer: bacon needs no reason.

…Search your feelings. You know it to be true.
Missouri-Style Cornbread with BACON!

"When the last crisp slice of bacon was gone, and the last allowance of corn pone devoured, the boys stretched themselves out on the grass, filled with contentment. They could have found a cooler place, but they would not deny themselves such a romantic feature as the roasting campfire."
— The Adventures of Tom Sawyer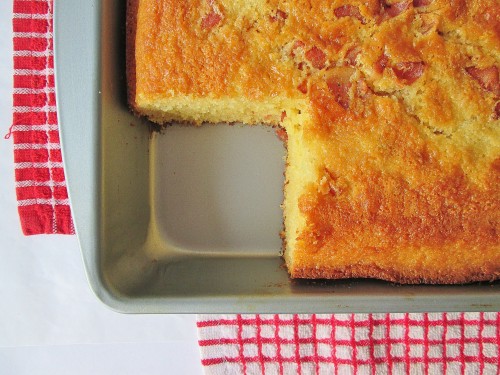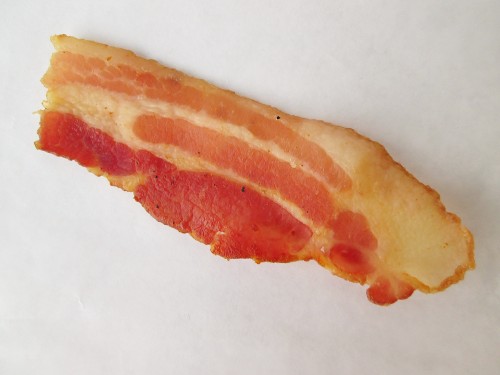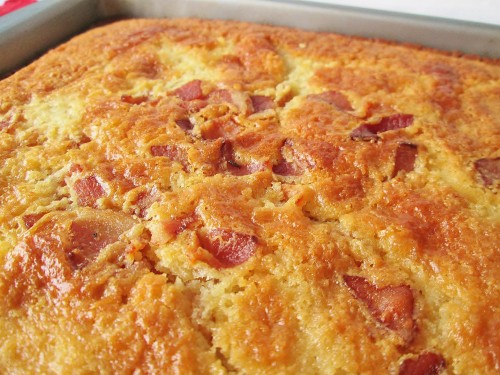 INGREDIENTS:

5 slices of bacon
1 2/3 cups flour
3/4 cup yellow cornmeal
2 tbsp baking powder
1 1/4 tsp salt
8 tbsp margarine, softened
1 scant cup sugar
1/2 cup honey
2 eggs
1 2/3 cup milk
Makes 9 servings

INSTRUCTIONS:
Preheat your oven to 325° and fry up your bacon.

Try to find a very meaty variety. As delicious as bacon fat is, we don't want a lot of extra oil added to the batter, since it can affect the final texture of the bread.

While your bacon cools, thoroughly coat an 8×8 metal baking pan with some of the leftover grease. This will give us more of that bacon flavor we're looking for (plus a crispy side crust) without making the batter oily.

Oh Most Glamorous of Glamorous Photographs! How honored we are to have looked upon thee! …Seriously though, it's hard to make bacon grease look nice.

Chop your bacon into coarse bits and set aside. In a mixing bowl, stir together your flour, cornmeal, baking powder, and salt and set it aside.
In a separate bowl, beat your margarine and sugar on medium speed with an electric mixer until fully incorporated. It will have a lumpy, grainy texture.

I've never heard of using margarine in cornbread before, but this seems to work pretty well flavor-wise. I did notice that the final product is a bit denser than the cornbread I'm used to, but not discouragingly so.

Beat in the honey and eggs until smooth, scraping the sides of the bowl if necessary.
Beat in half your milk until fully incorporated, then beat in half your flour mix. Continue alternating them until you've used them all up. Then set your beater on its lowest speed and beat for 4 more minutes.
Pour the batter into your greased baking pan and sprinkle your bacon bits on top.

Don't worry about pressing them in. The dough will rise around the bacon bits, engulfing most of them, and the ones on the top shouldn't burn.

Bake for 45-50 minutes, or until the center mostly springs back when touched and a toothpick inserted in the center comes out clean.

The original recipe says 40-45 minutes. The problem I ran into was, at the 40 minute mark, the outer edges of the bread were done, but the center was barely solid and made a loud "foamy" noise when touched. I covered the edges in tinfoil to keep them from burning and continued to let the center cook for another 10 minutes. By then, the center was solid and the edges were still safe. Success!

Allow to rest for 5-7 minutes, then serve to your favorite little scamps as a post-adventure snack.


I LOVE that honey is part of this recipe. I'm usually a honey-drizzling fiend when it comes to cornbread, but this recipe has the perfect balance: enough honey flavor that you don't feel the need to drizzle on more, yet not overpowering.