I can't adequately express to you how nervous/excited I've been to make this dessert. I've been wanting to try my hand at baked Alaska for years, and a menu based on a book about the Alaskan wilderness was a perfect excuse.

Still, the instructions for most recipes I found were a little intimidating…and I've never actually set my food on fire before. Turns out, I needn't have worried so much. This recipe (my own interpretation of one I found on Chocolate Moosey) is designed to be made in ramekins, which simplifies the assembly process. Everything came together easily—even the meringue, which I hear can be really fussy.  Plus, the cold of the ice cream, campfire flavor of the toasted meringue, and s'more elements make this dish a great conclusion to our trail-themed White Fang menu.

Baked Alaska

" He could not immediately forego his wild heritage and his memories of the Wild. There were days when he crept to the edge of the forest and stood and listened to something calling him far and away."
— White Fang
INGREDIENTS: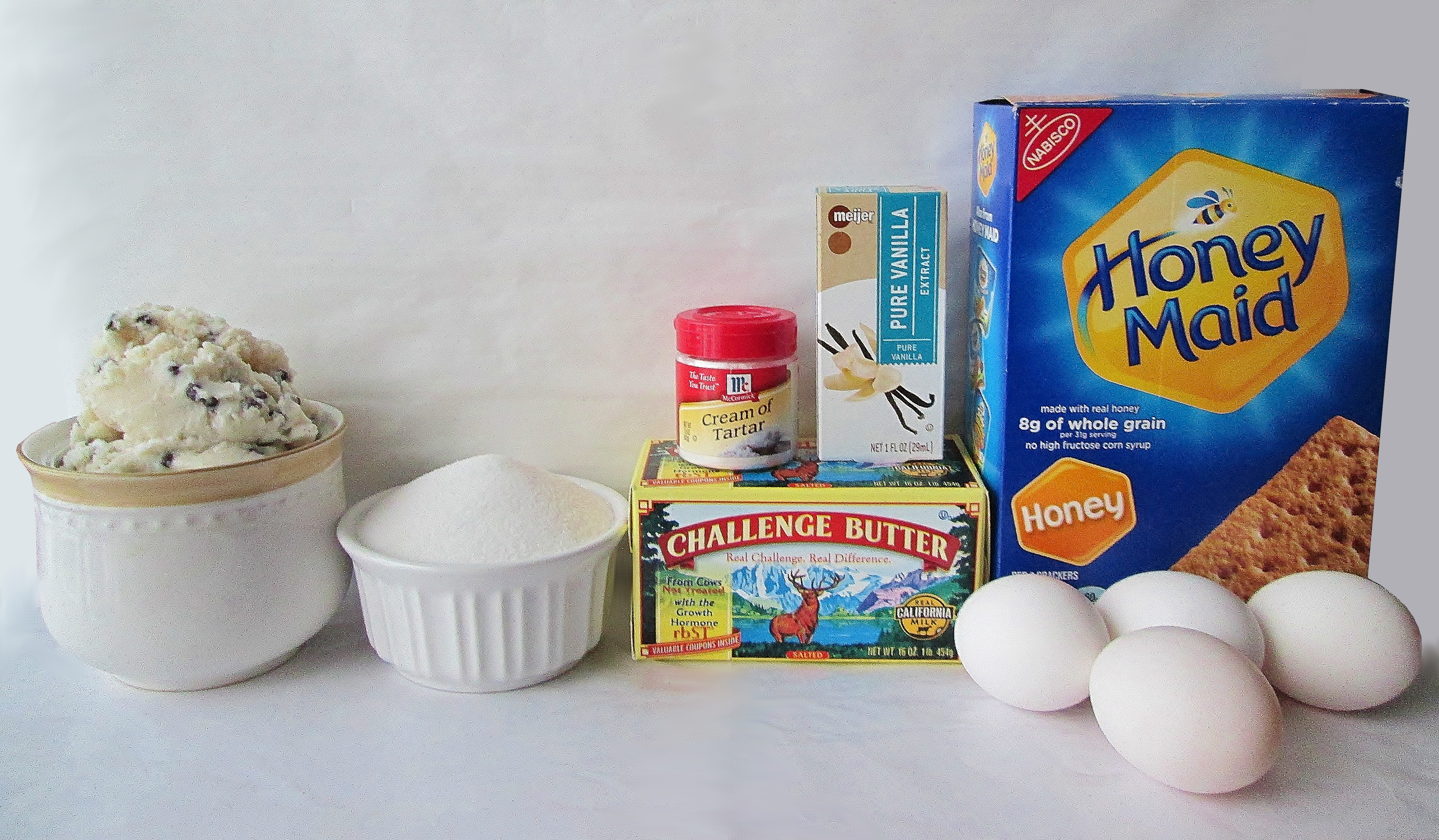 1/2 cup graham cracker crumbs
2 tbsp butter, melted
2 cups cinnamon ice cream with 2 1/2 tbsp mini chocolate chips mixed in (I made my own but Ben & Jerry's makes great cinnamon ice cream too)
2 egg whites
1/8 tsp cream of tartar
1/4 cup granulated sugar
1/2 tsp vanilla extract
Makes 4 servings

INSTRUCTIONS:
Preheat your oven to 350°. Stir the graham cracker crumbs and butter together in a bowl until the crumbs are completely moistened. Divide the crumbs evenly between four ramekins and gently pack down the crumbs with the back of a spoon.

I have round, deep 7 oz ramekins and shallow, oblong 4 oz ramekins. With both sizes, the amount of crumbs allotted to each ramekin came out to about 2 1/2 heaping spoonfuls.

Place the ramekins on a baking sheet and toast for 5-7 minutes or until the crumbs darken slightly. Set them on a wire wrack to cool.
Take out your ice cream and let it sit at room temperature to soften slightly while you make your meringue.
Add the egg whites, cream of tartar, and vanilla to the bowl of a standing mixer and beat on medium speed until soft peaks form (you can learn more about soft and stiff peaks here). Set the mixer speed to high and add the sugar 1 tbsp at a time until completely incorporated. Continue beating on high speed until stiff peaks form. For me, this was about 3 minutes.


When the ramekins have completely cooled, evenly distribute the ice cream between the ramekins and gently spread it out until the top is smooth.

You don't want to press too hard, because the graham crust is still a little delicate. It will firm up after being chilled for a little bit.

If spreading out the ice cream takes long enough that it has gotten very soft, place the ramekins in the freezer for 3 minutes or so to keep it from melting. You don't want to keep it in too long, because ceramic ramekins can crack under the heat of a chef's torch if they're too cold.
 Now it's time to add the meringue! Place a couple spoonfuls of meringue on top of each ramekin and spread it out flat with a butter knife or small icing knife.

Make sure the ice cream is completely sealed from the open air with the meringue, even along the edges. Even small gaps can cause the ice cream to melt when we torch the meringue later.

Add another spoonful of meringue in the center and smooth it out just a little, so you still have a slight dome shape to the top of your ramekin. Then with the tip of your knife, make a little divot in the meringue and brush upward to create a little peak. Repeat this all over the surface of the meringue until it is covered in little peaks. This will create visual interest when we toast it.


Now for the really fun part! Toast the meringue by passing an ignited chef's torch back and forth over it at about a 45 degree angle from a few inches away. Only allow the torch to touch any given area for a couple seconds each. If you like, you can go back and "spot toast" a few areas to give it a more even look. I hear you can also toast this recipe in a broiler, but I haven't tried it.


You can serve these right away or store them uncovered in the freezer. Enjoy in honor of the great state of Alaska! 🙂

Would you believe this was my first time making meringue? I hear it can be super fussy, but this meringue turned out great. I highly recommend Taste of Home's tips for making meringue—they made it super easy for me.