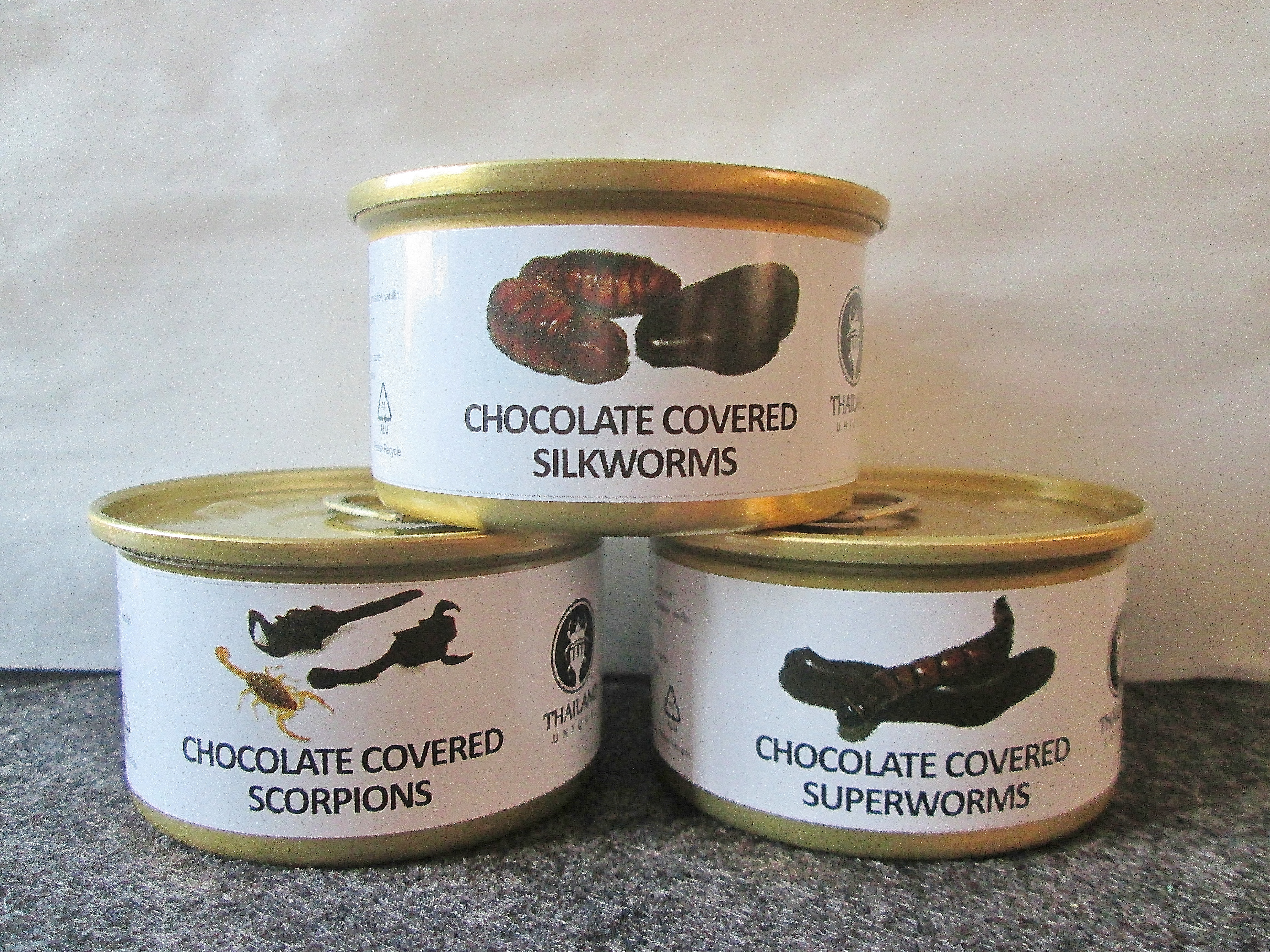 Our Dracula menu has drawn to a close, but I'd like to leave you with one more awesome Halloween edible before the big holiday tomorrow. As you may recall, we've already made blue corn Spider Chips for Halloween, so for the brave souls out there, I decided to add some REAL bugs to the menu.
Last week, I ordered a 3-tin pack of chocolate-covered bugs from ThinkGeek. The tins contained 12 silkworms, 12 superworms, and 2 scorpions. Full Disclosure: I've been morbidly curious about edible bugs for ages, so Halloween is really just as excuse for me to let my freaky foodie flag fly. 😉
Armed with a 5 point grading scale, the Mister and I decided to perform a taste test. Here are our grading categories:

Presentation (1 possible point): Does it look like what it's supposed to be?
Texture (1 possible point): Does the texture add to or detract from overall yumminess?
Flavor (2 possible points): Does the bug taste good? Does it combine well with the chocolate?
Snackability (1 possible point): If you didn't know or didn't care this was a bug, would you have it as a snack?

Partial points were possible, and since we took the average of our individual grading sheets, there were a lot of 3/4 points in the final rankings. I like to think that makes us look way more scientific…and less like two weirdos scarfing bugs for fun. 😉

EDIBLE BUG TASTE TEST

SILKWORMS
Presentation: 0.75, Texture: 0.5, Flavor: 1.5, Snackability: 0.75
The silkworms looked pretty safe. Too safe, in fact—we took off partial points for looking like just a lump of chocolate (not enough like a bug). Despite the off-putting texture (VERY dry, almost like sawdust), the flavor was ok. The worm has a very mild flavor, so it blends with the chocolate nicely.
Overall Score: 3.5 of 5
SUPERWORMS
Presentation: 1, Texture: 1, Flavor: 1.75, Snackability: 0.75
These definitely looked a lot more like worms. On some of them, you could even see the bumps of segmentation. These were crunchier and a little more firm than the silkworms. The flavor here was more distinct but in a pleasant way. The worms had an earthy, oatmeal flavor that reminded me of cookies when combined with the chocolate. Definitely a bit more snack appeal than the silkworms!
Overall Score: 4.5 of 5
SCORPIONS
Presentation: 0.75, Texture: 1, Flavor: 2, Snackability: 1
As the Mister gleefully put it, "SCORPIONS!" He was happy to give them full points, and I don't blame him—these were delicious! However, I was feeling nitpicky and took partial presentation points for size discrepancy (one scorpion was half the size of the other). In terms of texture, the scorpions were by far the firmest and the crunchiest, though it was a little more work to navigate the shape. They were salty and just a bit bitter, so when you combine them with the chocolate, you basically wind up with salted dark chocolate. The Mister also noted that they have extra snackability because "no poison death!" Can't argue with that!
Overall Score: 4.75 of 5
FINAL NOTES
I was surprised at how thoroughly the scorpions nabbed first place—I never anticipated how salty they would be! Now I'm curious about the seasoned edible bugs gift pack…especially the bacon and cheese grasshoppers!