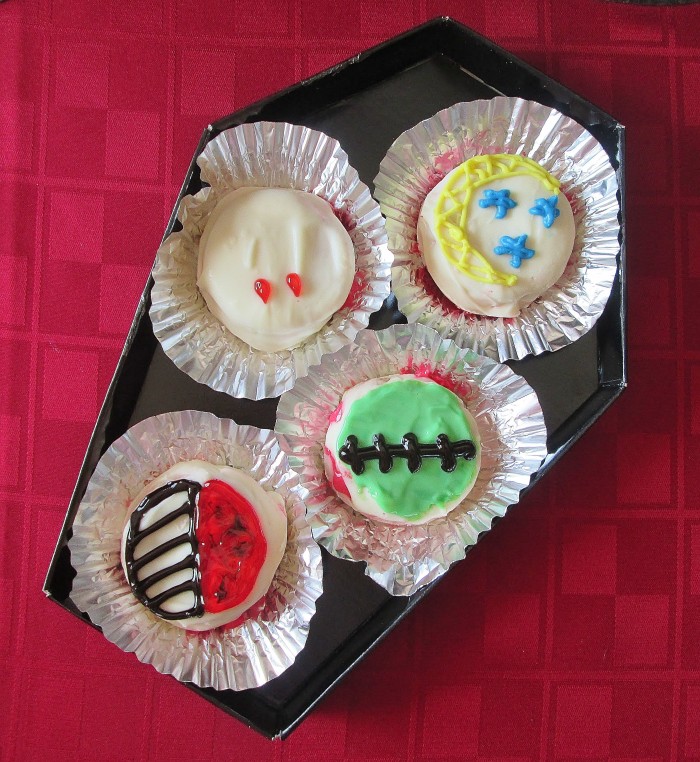 To me, black and white monster movies are the best part of Halloween. I love Bela Lugosi's Dracula, of course, but The Wolfman also holds a special place in my heart. And don't even get me started on Frankenstein.
The problem is that not all of these cinema classics have a literary counterpart to go with them. And some of the best Gothic monsters EVER were left out of the lineup (Jekyll and Hyde had a film, but it was lost for years). So I decided to conclude this Dracula menu with a tribute to the greatest of the greats: Dracula, Jekyll and Hyde, Frankenstein's monster, and the Wolfman. For this dessert, I whipped up my own recipe for white chocolate moon pies with red marshmallow fluff. Then, I decorated them with minimalistic designs inspired by my four favorite baddies. Enjoy!
Monster Mash Moon Pies: An Alison's Wonderland Original Recipe ©

"…just then the moon, sailing through the black clouds, appeared behind the jagged crest of a beetling, pine-clad rock, and by its light I saw around us a ring of wolves, with white teeth and lolling red tongues, with long, sinewy limbs and shaggy hair."
— Dracula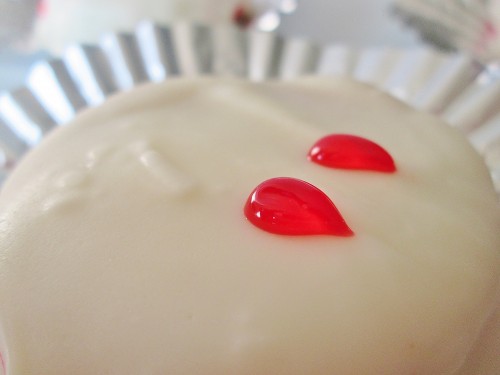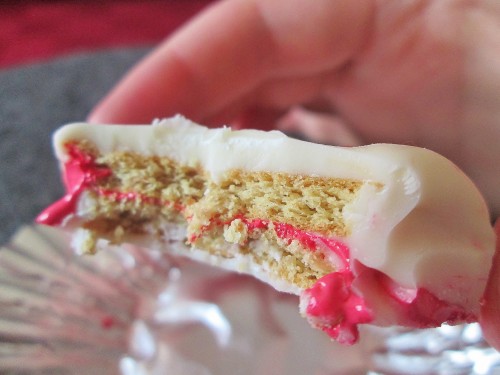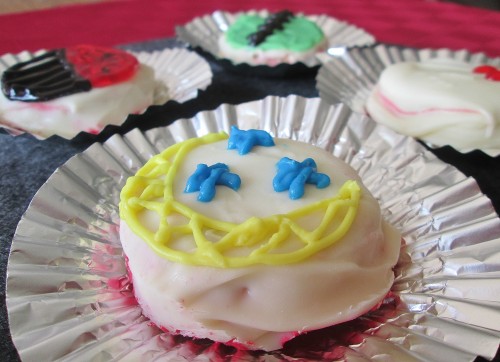 INGREDIENTS: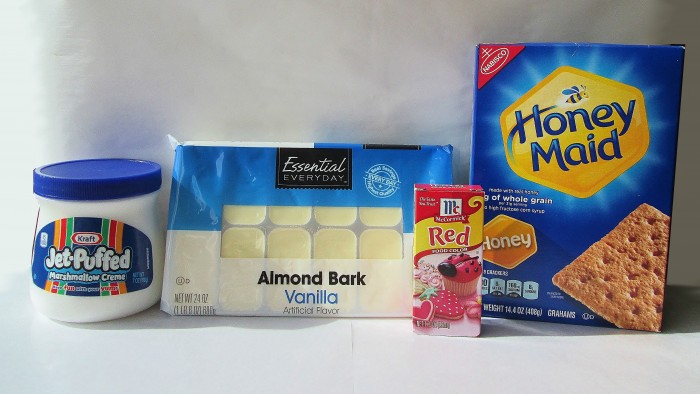 4 graham crackers
5 cubes vanilla almond bark (2 oz each)
2 heaping spoonfuls marshmallow fluff
3/4 tsp red food coloring (later, I also added two drops of magenta gel coloring, which gave it a little more depth)
you'll also want icing pens of various colors, depending on how you'd like to decorate
Makes 4 moon pies

INSTRUCTIONS:
Using a circular cookie cutter, cut two circles from each graham cracker. I thought I was going to have to soften them up, but the grahams turned out to be surprisingly sturdy. If you'd prefer soft grahams so as to achieve a more authentic moon pie experience, Domestically Speaking's graham softening technique has gotten great reviews.

If you don't have a small enough cookie cutter, you can use the lid from a circular spice jar. I used the lid from my Weber season salt, and it worked great.

Scoop your marshmallow fluff into a small bowl. Add your food coloring and stir just until the fluff is evenly dyed. The fluff absorbs a lot of color, so you don't want to stir for too long. Otherwise, it will just keep soaking it in and lightening the color. Leaving just a bit on the surface will give you a truer red without using a lot of dye.

If you choose not to dye your marshmallow fluff, you'll be able to use more fluff in each pie without worrying about color contamination. However, you'll lose the fun effect of the red filling. In the end, it's up to you!

Line a cookie sheet with wax paper. In a small saucepan, melt your almond bark on medium-low heat until smooth, stirring continuously with a small rubber spatula. When your coating is completely smooth, turn off the heat.

Add a small dollop of fluff to the center of a graham disk (less than you think you'll need—it spreads a lot). Top with another graham disk.

The exact amount of fluff you'll need depends on the size of your cookie cutter. My graham disks were about two inches wide, and my dollop was a little bigger than a marble. See how there's a little bit of a gap between the edge of the fluff and the edge of the graham? That's what you want to achieve.

Place the "graham sandwich" in the middle of the saucepan. Use your spatula to fold the melted coating over the top of the grahams and around the edges. Continue until the sandwich is completely coated.


Slide the spatula under the completed moon pie and lift it from the pan, holding it in place with your fingers if needed.

If you wind up with a red splotch in your saucepan, don't stir it in (you'll just wind up with a pink tint). Instead, use your spatula to lift the red splotch out of the pan, rinse it off in the sink, and dry the spatula.

Immediately place the moon pie on the wax paper. Place the cookie sheet in the fridge until the next moon pie is assembled and ready for dipping.

The fluff will show through a little, but if you chill the pie right away, you shouldn't have as much trouble with fluff leaking out the sides.

NOTE: You'll want to assemble and dip the pies one at a time, so the red fluff doesn't have a chance to spread to the edges before it's dipped in the coating. This will cut down on red splotches in your saucepan.
When all the pies are complete, use your spatula to add an extra layer of coating around the edges of each pie. Smooth out the tops a little if you think they need it.
Chill uncovered for 15 minutes or until the coating is firm.
Decorating these guys is pretty quick and easy. Just use your icing pens to draw any kind of design you want. I chose to base my designs off of Dracula, Jekyll and Hyde, Frankenstein's Monster, and the Wolfman:


This slideshow requires JavaScript.

These can be stored uncovered in the refrigerator for up to three days. When you're ready to serve, I'd recommend placing them in some cupcake liners. This will prevent them from sticking to the plate if the marshmallow fluff leaks a little, and it'll also catch crumbs while you eat.

Here's the Yummly printable!
Monster Mash Moon Pies: An Alison's Wonderland Original Recipe ©
Ingredients
4 graham crackers
5 cubes vanilla almond bark (2 oz each)
2 heaping spoonfuls marshmallow fluff
3/4 tsp red food coloring and 2 drops of magenta gel coloring
icing pens (for decoration)
Instructions
Using a circular cookie cutter, cut two circles from each graham cracker.
Scoop your marshmallow fluff into a small bowl. Add your food coloring and stir just until the fluff is evenly dyed. The fluff absorbs a lot of color, so you don't want to stir for too long. Otherwise, it will just keep soaking it in and lightening the color. Leaving just a bit on the surface will give you a truer red without using a lot of dye.
Line a cookie sheet with wax paper. In a small saucepan, melt your almond bark on medium-low heat until smooth, stirring continuously with a small rubber spatula. When your coating is completely smooth, turn off the heat.
Add a small dollop of fluff to the center of a graham disk (less than you think you'll need---it spreads a lot). Top with another graham disk.
Place the "graham sandwich" in the middle of the saucepan. Use your spatula to fold the melted coating over the top of the grahams and around the edges. Continue until the sandwich is completely coated.
Slide the spatula under the completed moon pie and lift it from the pan, holding it in place with your fingers if needed.
Immediately place the moon pie on the wax paper. Place the cookie sheet in the fridge until the next moon pie is assembled and ready for dipping.
When all the pies are complete, use your spatula to add an extra layer of coating around the edges of each pie. Smooth out the tops a little if you think they need it.
Chill uncovered for 15 minutes or until the coating is firm.
Use your icing pens to draw any kind of design you want. I chose to base my designs off of Dracula, Jekyll and Hyde, Frankenstein's Monster, and the Wolfman.
These can be stored uncovered in the refrigerator for up to three days. When you're ready to serve, I'd recommend placing them in some cupcake liners. This will prevent them from sticking to the plate if the marshmallow fluff leaks a little, and it'll also catch crumbs while you eat.
Serve to your favorite Gothic monsters at your next Halloween party!
Notes
You'll want to assemble and dip the pies one at a time, so the red fluff doesn't have a chance to spread to the edges before it's dipped in the coating. This will cut down on red splotches in your saucepan.
If you do get a red splotch in your candy coating, do not stir it in. This will tinge the rest of the coating pink. Instead, lift it out with a clean spoon.
http://wonderlandrecipes.com/2014/10/23/monster-mash-moon-pies-an-alison-wonderland-original-recipe/