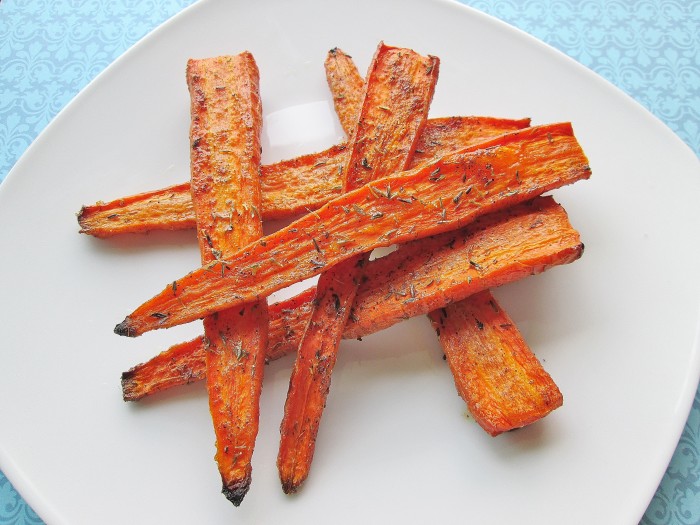 You knew I had to do it. No Anne of Green Gables menu is complete without carrots! Who can forget Anne's sensitivity to having her bright red hair compared to a popular root vegetable? It drives her to fly into a fury at Mrs. Rachel Lind and break a slate over Gilbert Blythe's head in school…little did she know, Gilbert was only drawing attention to her hair because he thought it was pretty!
For our carrot dish, my goal was to craft a carrot that even Anne wouldn't mind being compared to. I chose a Pioneer Woman recipe that was delightfully simple, yet uncommonly wonderful…not unlike Anne herself! 🙂
He Called Me Carrots

"Gilbert reached across the aisle, picked up the end of Anne's long red braid, held it out at arm's length and said in a piercing whisper: 'Carrots! Carrots!' Then Anne looked at him with a vengeance!…She flashed one indignant glance at Gilbert from eyes whose angry sparkle was swiftly quenched in equally angry tears…And then–thwack! Anne had brought her slate down on Gilbert's head and cracked it–slate not head–clear across."
— Anne of Green Gables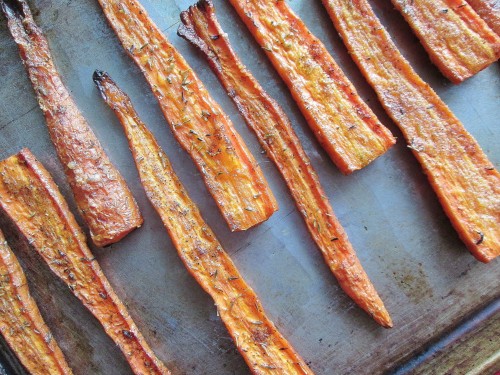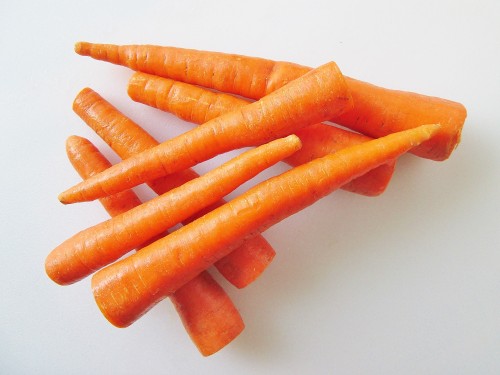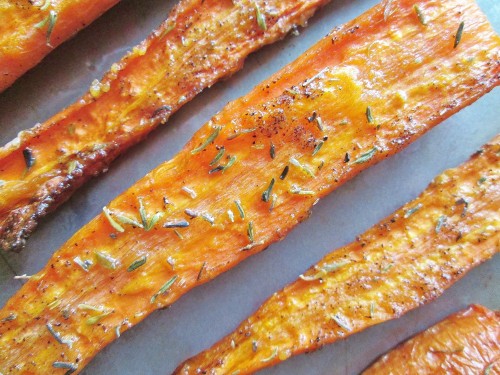 INGREDIENTS:

7 whole carrots (washed)
1/4 cup olive oil
1 1/2 tsp thyme
salt and pepper to taste
Makes approximately 4 servings
INSTRUCTIONS:

Here's the Yummly Printable!
He Called Me Carrots: Beautifully Simple Roasted Carrots with Thyme
Ingredients
7 whole carrots (washed)
1/4 cup olive oil
1 1/2 tsp thyme
salt and pepper to taste
Instructions
Carrots come in a wide variety of sizes, so your first step will be to trim the rounded ends and pointed tips---both to get rid of any brownness there and make the carrots relatively equal in size.
Next, preheat your oven to 350° and slice your carrots lengthwise down the middle. This will help them cook more evenly.
Lay them out flat on a baking sheet and pour the olive oil over them. Toss them around until they're evenly coated.
Now sprinkle salt, pepper, and thyme all over them.
With most roasted vegetables, it hard to overdo the seasoning, but it's easy to go overboard with the salt on these. I'd recommend 1/8 tsp per carrot half.
Pop the carrots in the oven for 35-40 minutes, until they've just begun to blacken at the tips and wrinkle a bit.
Serve warm alongside our Poetical Egg Salad Sandwiches...or as a pick-me-up after breaking your slate over someone's head!
http://wonderlandrecipes.com/2014/07/17/he-called-me-carrots-beautifully-simple-roasted-carrots-with-thyme/
Save
Save