Eeyore might complain about coming last in the recipe lineup, but we saved him for last because this dessert is extra special: we're creating his dream birthday cake! Complete with candles, pink sugar, and icing, this cake is everything Eeyore envisions when describing the perfect birthday cake. The blueberry curd filling was my way of adding a little Wonderland uniqueness. And what better way to take advantage of blueberry season than giving our Winnie the Pooh dessert a little blueberry punch?
I think the curd is just what this angel food cake recipe (originally from Better Homes and Gardens) needed to set it apart. The final result was light, fluffy, and delicately sweet. Just what the donkey ordered! 😉
P.S. We got the spelling for "Happy Birthday" from our good friend Owl, so it MUST be correct. 😉

Eeyore's Birthday Cake

"'You were so busy getting his party ready for him. He had a cake with icing on the top, and three candles, and his name in pink sugar…'"
— Winnie the Pooh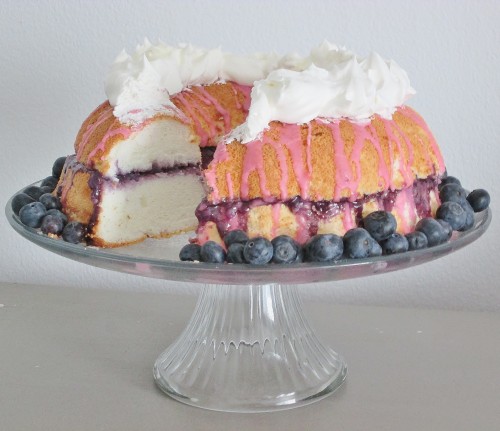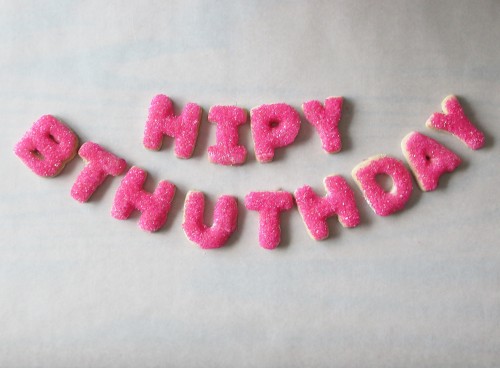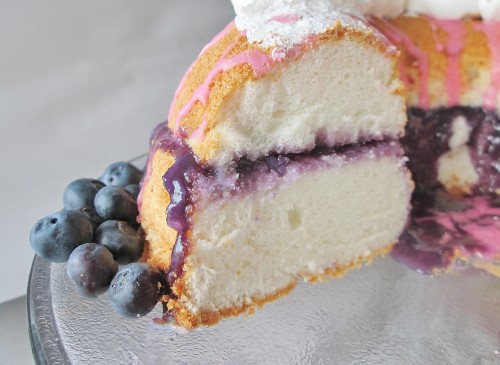 INGREDIENTS: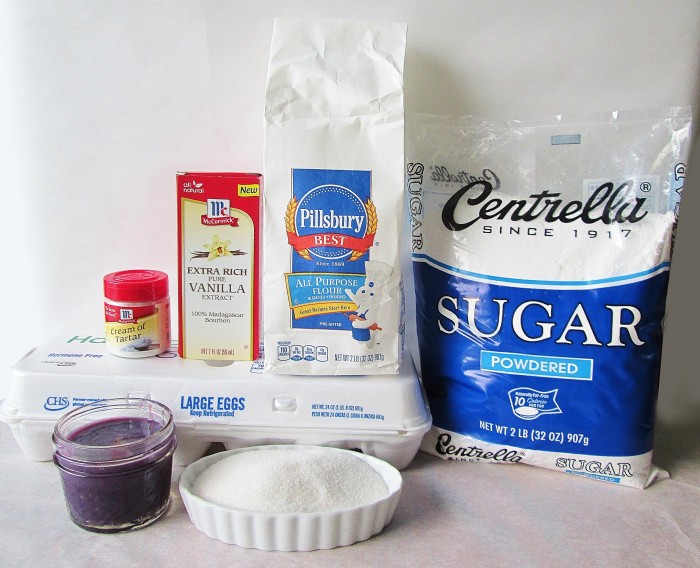 1 1/2 cup egg whites (about 11 eggs)
1 cup all purpose flour, sifted
1 1/2 cup powdered sugar, sifted
1 tsp vanilla
1 1/2 tsp cream of tartar
1 cup granulated sugar
about 1/2 cup blueberry curd, keep refrigerated until ready to use (the recipe I used can be found here)
Makes 1 angel food cake
INSTRUCTIONS:
Allow your egg whites to stand at room temperature for about 30 minutes. While you wait, you can sift the flour and powdered sugar together (you'll want to sift them together 3 times, so the mix is super light and fluffy). Set them aside. Then move your bottom baking rack down to the lowest slot in your oven and preheat your oven to 350°.

The key to not-so-tedious sifting is to put the mix in the sifter a 1/2 cup at a time. It goes much faster that way!

When the eggs are ready, add the vanilla and cream of tartar to the egg whites. Beat the egg-vanilla-tartar mix on medium speed until soft peaks form (pictured left). Then gradually add the granulated sugar a little bit at a time, beating on medium-high speed until stiff peaks form (pictured right).


Sift the flour mix into the egg whites 1/4 at a time, folding well after each addition. The key here is to be gentle. Remember, you're dealing with a mix that's predominantly composed of "egg fluff!"

Pour the mix into a lightly greased 10-inch tube pan. Before you pop it in the oven, slowly run an icing knife (or other flat-edged knife) in a circle through the middle of the batter. This will get rid of any air pockets!

The original recipe recommends using an ungreased pan, but my first experience with this recipe resulted in a cake that completely adhered to the pan. So my advice: grease just a leeeeetle bit.

Put it in the oven for 35 minutes or so. It's ready when it springs back when firmly tapped. When it's finished, immediately flip over the pan on a wire rack and allow the cake to cool in the pan for about 30 minutes. This helps the cake keep its shape!

While the cake cools, you can start working on your decorations! Start by mixing together your icing. I used a slight variation of this recipe: 1 1/4 cup powdered sugar, 2 tbsp milk, 3/4 tsp vanilla, and three drops pink gel food coloring. Mix it all together and pour it in a flat lid with raised edges (most large Tupperware lids will do). It should be not-quite-drizzling consistency (if it's too thin, stir in a little more powdered sugar). Pour your pink sugar into a similar, smaller container.

Later, before I drizzled the remaining icing on the cake, I decided to add a drop of magenta to match the sugar.

Pick out your letters from the Cinnamon Schoolhouse Cookies. I wanted to spell "Hipy Bthuthday" to match the message Owl writes on Pooh's present to Eeyore.

Time to decorate the letters! The steps are pretty simple:

This slideshow requires JavaScript.

While your letters dry, loosen your cake from the pan (it should be cooled by now) and gently remove it. Then  cut a circular line around the outside edge of the cake, to guide you while you cut your layer. Once your guideline is ready, insert a large, flat-edged knife all the way and cut your cake into two layers.

Immediately flip the top layer over, so both layers have the "inside" of the cake facing up. Grab your blueberry curd from the fridge and add a "thinnish" layer of curd to each half of the cake (thick enough that the cake is completely covered, but not so thick that the top layer will drip everywhere when you put it back on top). With the aid of a flat knife or spatula, flip the top layer back into place. Ta-da! Layer cake!

Add a little more milk to your pink icing to get it to drizzling consistency, and use a spoon to drizzle it over the top of the cake. Add some whipped cream and blueberries!


When your letters are dry, arrange them on or around the cake however you like. Now you're all set–don't forget the candles!

Make a wish and enjoy while reading Winnie the Pooh! 🙂

Here's the Yummly printable!
Eeyore's "Hipy Bthuthday" Birthday Cake: Angel Food Cake with Blueberry Curd Filling
Ingredients
1 1/2 cup egg whites (about 11 eggs)
1 cup all purpose flour, sifted
1 1/2 cup powdered sugar, sifted
1 tsp vanilla
1 1/2 tsp cream of tartar
1 cup granulated sugar
1/2 cup blueberry curd (keep refrigerated until ready to use)
To make all your toppings, you'll need 1 1/4 cup powdered sugar, 2 tbsp milk, 3/4 tsp vanilla, pink gel food coloring, 1/4 cup pink crystal sprinkles, 8 oz Cool Whip, 1/2 pint fresh blueberries, and Trader Joe's Cinnamon Schoolhouse Cookies
Instructions
Allow your egg whites to stand at room temperature for about 30 minutes. While you wait, you can sift the flour and powdered sugar together (you'll want to sift them together 3 times, so the mix is super light and fluffy). Set them aside. Then move your bottom baking rack down to the lowest slot in your oven and preheat your oven to 350°.
When the eggs are ready, add the vanilla and cream of tartar to the egg whites. Beat the egg-vanilla-tartar mix on medium speed until soft peaks form. Then gradually add the granulated sugar a little bit at a time, beating on medium-high speed until stiff peaks form.
Sift the flour mix into the egg whites 1/4 at a time, folding well after each addition. The key here is to be gentle.
Pour the mix into a lightly greased 10-inch tube pan. Before you pop it in the oven, slowly run an icing knife (or other flat-edged knife) in a circle through the middle of the batter. This will get rid of any air pockets.
Put it in the oven for 35 minutes or so. It's ready when it springs back when firmly tapped. When it's finished, immediately flip over the pan on a wire rack and allow the cake to cool in the pan for about 30 minutes. This helps the cake keep its shape.
While the cake cools, you can start working on your decorations! Start by mixing together your icing. I used 1 1/4 cup powdered sugar, 2 tbsp milk, 3/4 tsp vanilla, and three drops pink gel food coloring. Mix it all together and pour it in a flat lid with raised edges (most large Tupperware lids will do). It should be not-quite-drizzling consistency (if it's too thin, stir in a little more powdered sugar). Pour your pink sugar into a similar, smaller container.
Pick out your letters from the Cinnamon Schoolhouse Cookies. I spelled "Hipy Bthuthday" to match the message Owl writes on Pooh's present to Eeyore.
Time to decorate the letters! The steps are pretty simple: One at a time, lay each letter face down in the icing. When you pick it up, rotate it around a little bit so the drips merge back in with the rest of the icing. Then lay it face down again, this time in the pink sugar, and let it sit for a few seconds (using pink icing helps camouflage any gaps in the sugar). For letters with holes in them, you might want to keep a toothpick handy, to poke away any icing for sugar that might be stuck in the hole. You can also run the toothpick along the sides of the letters, to scrape away any icing that might be dribbling over. This will give the letters a cleaner look and make them easier to read.
While your letters dry, loosen your cake from the pan (it should be cooled by now) and gently remove it. Then cut a circular line around the outside edge of the cake, to guide you while you cut your layer. Once your guideline is ready, insert a large, flat-edged knife all the way and cut your cake into two layers.
Immediately flip the top layer over, so both layers have the "inside" of the cake facing up. Grab your blueberry curd from the fridge and add a "thinnish" layer of curd to each half of the cake (thick enough that the cake is completely covered, but not so thick that the top layer will drip everywhere when you put it back on top). With the aid of a flat knife or spatula, flip the top layer back into place. Ta-da! Layer cake!
Add a little more milk to your pink icing to get it to drizzling consistency, and use a spoon to drizzle it over the top of the cake. Add some whipped cream and blueberries!
When your letters are dry, arrange them on or around the cake however you like. Now you're all set---don't forget the candles!
Make a wish and enjoy while reading Winnie the Pooh!
http://wonderlandrecipes.com/2014/06/26/eeyores-hipy-bthuthday-birthday-cake-angel-food-cake-with-blueberry-curd-filling/
Save
Save