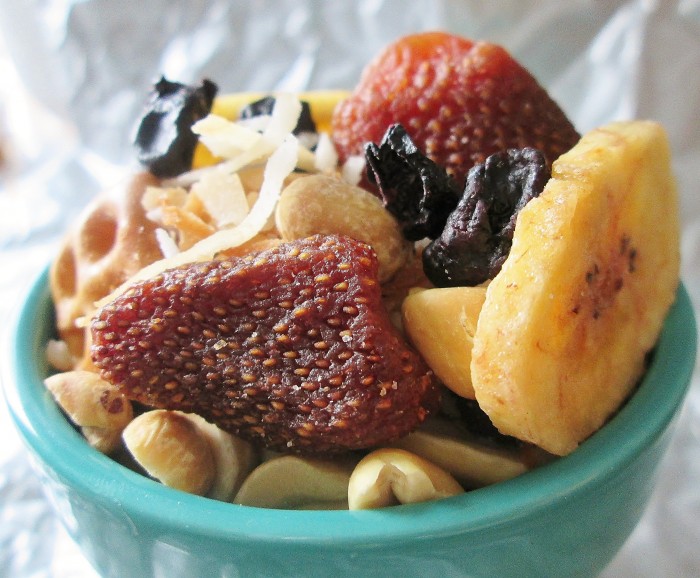 Happy May Day, everybody! It is with great pleasure that I introduce our new Book of the Month (and first sci-fi pick): The Hitchhiker's Guide to the Galaxy! This is easily one of my favorite books. It's quirky, original, yet sometimes profound. And since May 25th is Towel Day, I knew this month was the perfect time to feature a Hitchhiker's Guide menu. Let's get started!
As you probably know, the book begins at the end of the world. Due to a gross clerical oversight, The Galactic Hyperspace Planning Council has Earth scheduled for demolition (to make way for a hyperspatial express route). Of course, mankind finds out a bit too late, and the planet is destroyed in a single, terrible moment, kinda ruining everyone's day. Ford Prefect, a Betelgeuse alien undercover as a human, grabs his best friend Arthur and a few bags of pub peanuts before hitching a ride on a spaceship, saving his and Arthur's lives. The peanuts seem trivial at first, but their salty goodness works wonders in helping Arthur get his wits about him after the traumatic ordeal. Turns out, a lot can depend on a peanut!
But what if Ford hadn't been so pressed for time? What if he'd had more than one minute and thirty-five seconds to develop the perfect space travel snack? Our Apocalypse Trail Mix is the answer this question. This adapted version of a peanut-based trail mix from 24 Carrot Kitchen has got just the right combo of sweet and salty (not to mention all the right health benefits for a human in space). Exactly what Ford would have made…that is, if the world hadn't been about to end!
Ford Prefect's Apocalypse Trail Mix: Essential Nutrients for When the World's about to End

"Ford Prefect said: 'I bought some peanuts.'
Arthur Dent moved, and groaned again, muttering incoherently.
'Here, have some,' urged Ford, shaking the packet again, 'if you've never been through a matter
transference beam before you've probably lost some salt and protein.'"
— The Hitchhiker's Guide to the Galaxy
INGREDIENTS: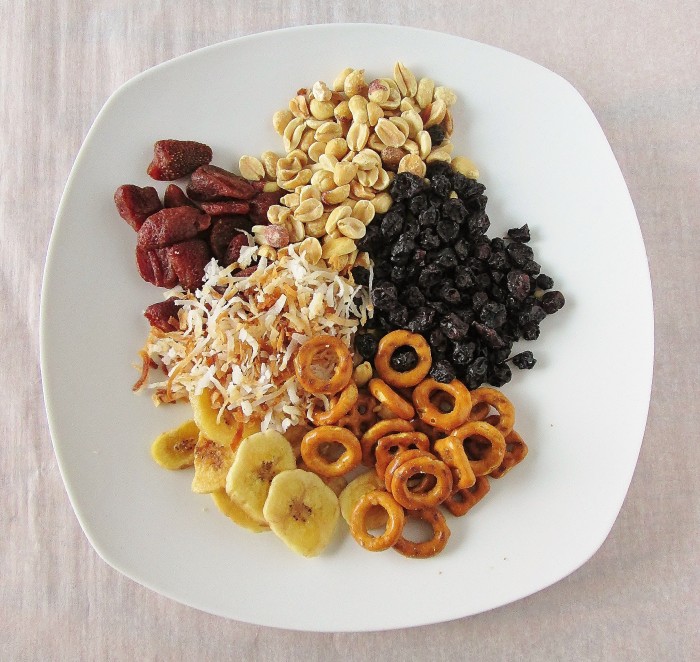 1/2 cup salted peanuts (replenishes the body's depleted salt stores after encountering a matter transference beam)
1/3 cup banana chips (potassium regulates blood pressure and heart function, which can suffer in the vacuum of space)
1/3 cup dried strawberries (boosts short term memory—gotta think fast when dodging intergalactic perils!)
1/3 cup dried blueberries (rich in antioxidants)
1/3 cup pretzels (more salt)
1/2 cup coconut flakes (just flat out delicious)
Makes a little over 2 cups of trail mix

INSTRUCTIONS:

Here's the Yummly Printable!
Ford Prefect's Apocalypse Trail Mix
Ingredients
1/2 cup salted peanuts
1/3 cup banana chips
1/3 cup dried strawberries
1/3 cup dried blueberries
1/3 cup pretzels
1/2 cup coconut flakes
Instructions
To start, preheat your oven to 350°. Spread the coconut flakes on an ungreased baking sheet and toast for 3-5 minutes (if the outer edge of the pan is slightly darker than the center, that's okay). Remove the pan from the oven and immediately stir the coconut a few times with a spoon. Allow it to sit until completely cooled.
Pour the peanuts, banana chips, strawberries, blueberries, and pretzels into a large bowl and stir until thoroughly mixed. Add the coconut when it has cooled, and stir it up one more time.
And you're done! Simple, right?
Enjoy while escaping the destruction of earth in Hitchhiker's Guide to the Galaxy!
http://wonderlandrecipes.com/2014/05/01/ford-prefects-apocalypse-trail-mix-essential-nutrients-for-when-the-worlds-about-to-end/
Save
Save