I recently realized I've been inadvertently taking a picnic/backyard bbq approach to this Wonderful Wizard of Oz menu. Maybe it's Dorothy's wicker basket…or this dreary February weather making me wish for summer…or simply my ever-present desire to have a barbeque.
Heck, let's be honest. It's most likely the last of the three. 😉
Combine this with my supreme desire to do a shout out to the winged monkeys, and you'll understand why I chose to make chicken wings as a side dish. But fried wings seemed too basic, and regular old Buffalo just wouldn't do. I needed something that captured the monkeys' impish, yet ultimately good nature. Sweet and spicy seemed the best way to go, since the monkeys are mostly sweet, with just a hint of mischief. These Hot & Sweet Drumsticks from Tasty Kitchen were just the ticket! They're delightfully sticky, with just the right balance of apricot sweetness and Tabasco kick. Enjoy!

Sweet 'n Spicy Flying Monkey Wings

"Now the charm began to work. The sky was darkened, and a low rumbling sound was heard in the air. There was a rushing of many wings, a great chattering and laughing, and the sun came out of the dark sky to show the Wicked Witch surrounded by a crowd of monkeys, each with a pair of immense and powerful wings on his shoulders."
— The Wonderful Wizard of Oz


INGREDIENTS: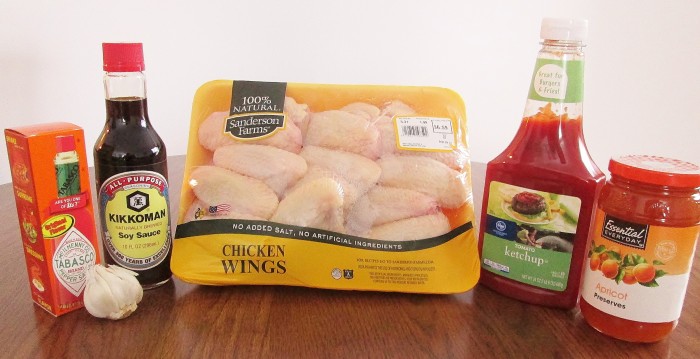 1 cup apricot preserves
1/2 cup ketchup
1/4 cup soy sauce
2 tsp minced garlic
2 tsp hot pepper sauce (I must confess I skimped a little and only put in one 1 tsp. For me, a little spice goes a long way.)
about 3 lb chicken wings (12 pieces)
Makes 12 wings
INSTRUCTIONS:
Preheat oven to 350°.
Plop everything except the wings in a small sauce pan and stir over medium heat until it's all melted and smooth.


Lay wings flat in a 13″x9″ pan and pour the sauce over them, reserving about a quarter of the sauce. You can use a pastry brush to evenly coat the wings and get into all the nooks and crannies.
Place the wings in the oven for about 25 minutes. Then pour the remaining sauce over the wings, and put the pan back in the oven for another 15-20 minutes (or until the tips of the wings begin to darken slightly).
And that's it! Gotta love a simple recipe. Enjoy while reading about how Dorothy frees the winged monkeys from the Wicked Witch's rule in The Wonderful Wizard of Oz! 🙂


a

Here's the Yummly Printable!

Sweet 'n Spicy Flying Monkey Wings

Ingredients

1 cup apricot preserves
1/2 cup ketchup
1/4 cup soy sauce
2 tsp minced garlic
2 tsp hot pepper sauce (I must confess I skimped a little and only put in one 1 tsp. For me, a little spice goes a long way.)
3 lb of chicken wings (12 pieces)

Instructions

Preheat oven to 350°.
Plop everything except the wings in a small sauce pan and stir over medium heat until it's all melted and smooth.
Lay wings flat in a 13"x9" pan and pour the sauce over them, reserving about a quarter of the sauce.
Place the wings in the oven for about 25 minutes. Then pour the remaining sauce over the wings, and put the pan back in the oven for another 15-20 minutes (or until the tips of the wings begin to darken slightly).
And that's it! Gotta love a simple recipe. Enjoy while reading about how Dorothy frees the winged monkeys from the Wicked Witch's rule in The Wonderful Wizard of Oz!

http://wonderlandrecipes.com/2014/02/20/sweet-n-spicy-flying-monkey-wings/
Save