Buns are a great side dish to accompany a hearty stew, like our Lamb Stew with Dried Plums from last week. Plus, bread in general plays a huge role in The Hunger Games, so it wouldn't be right to have a Hunger Games menu without it. It was hard to choose between all the great bread recipes featured in the books, but I finally settled on these cheese buns for two reasons:
1) Since Katniss loves them so much, she uses them in her Real or Not Real games with Peeta, making these buns a special representation of their relationship.
2) I am an absolute sucker for cheese.

P.S. Like our previous Hunger Games recipes, this one comes from the Unofficial Hunger Games Cookbook (though I made a few changes). Then again, if you're crazy in love with Ben's Toasted Cheese Buns from our Treasure Island menu, that recipe could work for this dish too!
The Mellark Family Cheese Buns

"Peeta comes by every day to bring me cheese buns and begins to help me work on the family book…I sit around stuffing myself with cheese buns and watching Peeta sketch."

— Catching Fire


INGREDIENTS: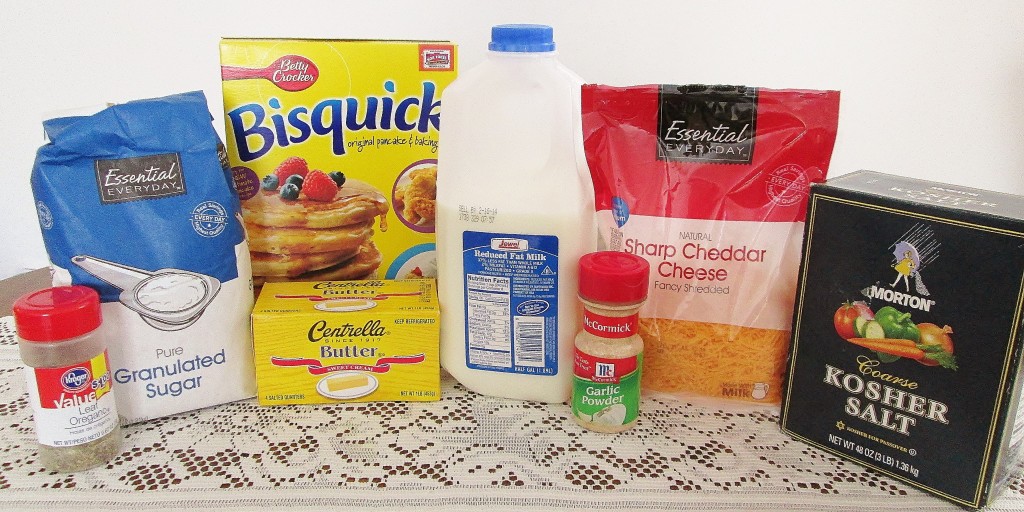 2 cups Bisquick
1/4 tsp garlic powder
1/2 tsp oregano, separated
1/4 cup sugar
2/3 cup milk, plus 2-3 tbsp if the consistency is too dry
3/4 cup shredded sharp Cheddar cheese
For the butter wash: 1/2 cup softened butter, 1/2 tsp garlic powder, 1/2 kosher salt
Makes 1 dozen buns
INSTRUCTIONS:
Preheat the oven to 450° and grease a cookie sheet while it heats up.
Pour Bisquick, 1/4 tsp garlic powder, 1/4 tsp oregano, sugar, milk, and cheese in a mixing bowl and blend until combined. You should be left with a bowl of cheesy orange goodness with a sticky, slightly gooey consistency. If it's too dry, add the 2-3 tbsp milk one tbsp at a time until you reach the desired consistency.
Place batter on the greased cookie sheet one heaping spoonful at a time, making sure to keep spoonfuls one inch a part. These babies expand!
Sprinkle the remaining 1/4 tsp oregano over the top of the buns.
Bake for about 10 minutes, or until the tops begin to darken slightly.
The original recipe calls for brushing a melted butter wash over the top of the finished buns. I found it to be too salty, so I left it off. If you would like to use it, combine the butter, 1/2 tsp garlic powder, and kosher salt in a microwave safe bowl. Microwave until the butter is just melted. When it's ready, stir it up and brush it on the buns with a pastry brush.
You can serve these babies warm or keep them at room temperature in a sealed container for up to three days. Either way, enjoy!
…there's one missing from the dozen, you say? *brushes crumbs from chin* I have no idea what you're talking about.