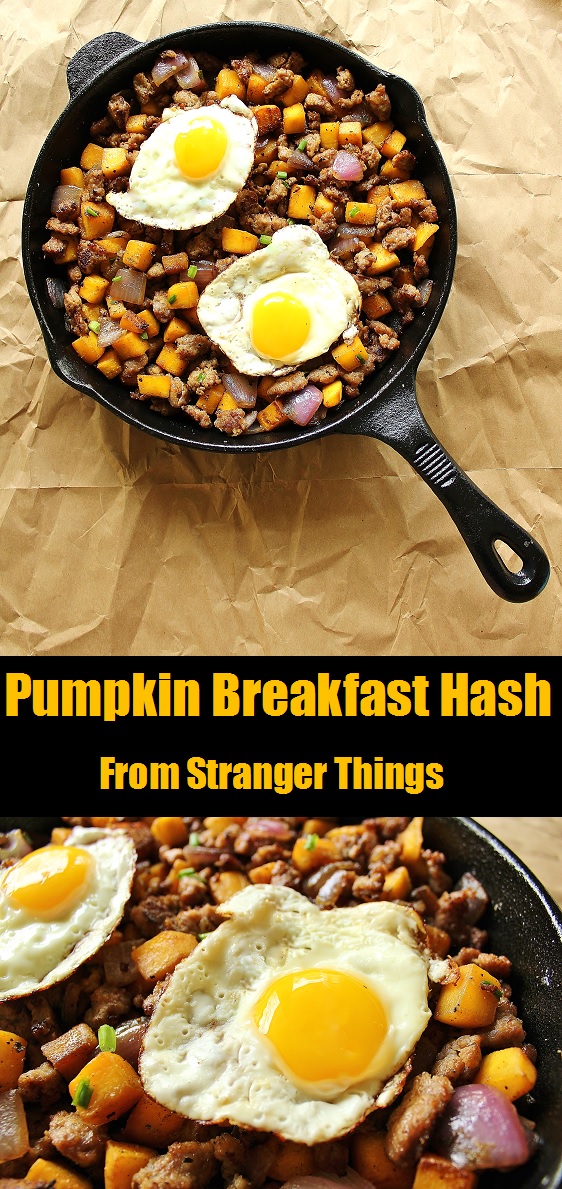 Pumpkin plays a key role in Season 2 of Stranger Things, so I knew it needed to make an appearance in my menu. I wanted to continue my breakfast theme, and pumpkin hash sounded like the perfect side dish to pair with my Fried Chicken Waffle Cones and Bacon Stuffed French Toast.

Pumpkin hash is a little unusual, but I managed to track down a recipe by Eat the Gains to use as inspiration. Like the original, mine starts with crumbled sausage, cubed pumpkin, and chopped onion (though I used red onion for a little extra color). Then I added a little garlic and sage since I've got Thanksgiving on the brain. Stir in some green onion for a pop of color and add some fried eggs on top, and you've got a hash Hawkins, IN would be proud to call its own.
P.S. Can I just say that I'm inordinately proud that, in the three recipes I've made for this menu so far, I've included FOUR kinds of protein? Chicken, bacon, sausage, AND eggs! Whew, I may need to go on a run when this is all over.
P.P.S. That's a hilarious joke because I have, in fact, NEVER gone on a run.
P.P.P.S. Don't worry, I won't be putting meat in the dessert. 😉